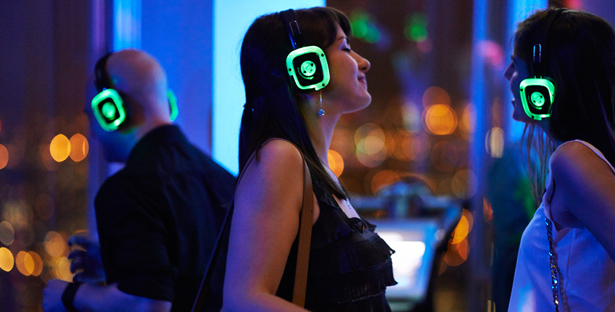 The View from The Shard, the viewing platform at the top of The Shard, hosts an incredibly popular silent disco on most Saturday nights.
Silent disco's are a great way to enjoy a party where you control the music you listen to. You are provided with a set of high quality headphones which are all hooked up to the DJ set. You can choose from between several genre's such as Pop, R&B, Soul, Rock and many others. Even though it's a silent disco, you're more than free to chat and interact as you normally would.
The silent disco is held on floors 69-72, which are the highest accessible points in the EU with stunning night views of London. Floor 72 is particularly exciting as it's an open air platform where you can enjoy the views and hear the sounds of the city.
There is also a fully stacked bar serving a wide array of drinks throughout the evening.
To find out when the next silent disco is being held at The Shard you need to check the Time Out website where you can also buy tickets for £37.95.
http://www.timeout.com/london/things-to-do/silent-disco-at-the-view-from-the-shard